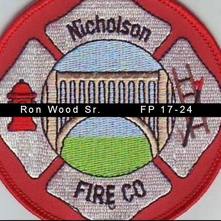 Ronald David Wood Sr., 74, of Nicholson, died Monday at home.

His wife is Betty Deyo Wood. They had been married 36 years.

Born in Hop Bottom, son of the late Jerry and Edna Springer Wood, he was a retired truck driver and a member of the Elkdale Baptist Church.

Ron also was a Nicholson Twp. Constable and a life member of the Nicholson Fire Company, Factoryville Fire Company, and the Wyoming and Susquehanna County Fire Police.

He was a loving husband, father and grandfather.

Also surviving are 13 children; 25 grandchildren; 25 great-grandchildren; four sisters and a brother; and several nieces and nephews.

A memorial service will be held at a later date.

Donations may be made to the family.