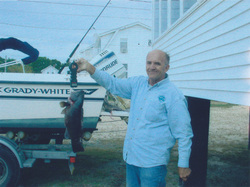 Richard G. Hellerman of Nicholson died Friday, June 24, 2016, at Allied Skilled Nursing Center in Scranton. He was 74.

He is survived by his wife, Doris Mellor Hellerman.

Born in Abington, he was the son of the late Stanley R. and Frances Marie Michner Hellerman.

Dick was a kind and honest gentleman. His favorite things to do were gardening, cooking, hunting, and anything he could do outdoors.

He loved nature and his most favorite activity was fishing. He loved fishing with his family and friends. He was fortunate enough to be able to fish from Northern Quebec to as a far south as Belize, and many locations along the eastern coastline.

He had a mechanical mind and could fix and build almost anything. He enjoyed being able to repair items for family, neighbors, and friends. They say that dogs are good at judging people and there wasn't a dog that didn't love Dick as much as he loved them.

He was a very good dependable husband, father, and grandfather. It was his sense of humor that got us through 40 years of kidney and heart disease and most recently the cancer that he died from. With all his years of medical problems he lived his life in a manner that was admired by his family and friends.

He was an exceptional human being in so many ways. Dick will be missed but never forgotten by those who knew and loved him.

He is survived by two sons, Donald and wife, Corine of Connecticut and Tracy and wife, Jennifer of Massachusetts; a sister, Patricia Mill of Pennsylvania; and two grandchildren, Matthew and Lili.

A memorial service will be held at a later date.