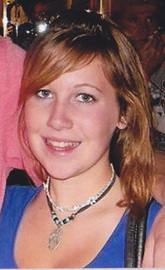 Our precious girl, Shannon Lorel Schuler, age 22, of Nicholson, was taken too soon in a tragic car accident Aug. 23.

Shannon lived at home with her parents, Bruce and Shelley Schuler; her sister, Collette; and nephew, Chace Schuler.

Collette and Shannon made each other whole, and Chace was her little pal.

She was a 2011 graduate of Mountain View High School, and attended Keystone College for four years.

Shannon did not gain wings when she passed. She was already an angel. Everyone who had the privilege to know her was graced by her love, presence and kindness. She was beautiful inside and out. There will forever be an emptiness never to be filled.

Shannon is also survived by a sister, Elisa Schuler, Scranton; and a brother, Chris Ford, Salt Lake City, Utah, who was her friend, protector and more; her maternal grandparents, Ellis and Judy Dinning, Scranton; Aunt Lisa Krah, Scranton; Aunt Donna Kletsko; and Uncle Jeff Schuler and wife, Martina; several cousins and Lola, her 10-year-old dog.She was predeceased by her grandparents, Gladys and Ron Schuler; and great-grandparents, George and Edith Janes.

The family will receive friends Friday from 5 to 8 p.m.