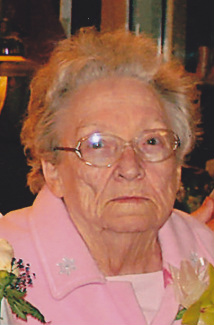 Ruth Singer, age 89, of Lake Sheridan, died Tuesday at Moses Taylor Hospital in Scranton.

She was born December 14,1923 at Lake Sheridan, daughter of the late Bernard and Mable Miller Bailey.

In 1945 Ruth moved to Scranton, married the late Walter (Chappy) Singer in 1947, and moved back to Lake Sheridan in 1979.

Ruth graduated from Factoryville High School and was a member of The First Baptist Church of Factoryville. She was also employed at American Tobacco, Waitten Bond, Snyder Cigar, Sandvik Steel, and Black Stone.

Ruth is survived by a daughter, Mary Ann Singer of Lake Sheridan; four granddaughters, Carrie Van Hook, Michele Ferguson, Darlene Davis, and Rebecca Hofreiter; two grandsons, Jason Singer and David Singer Jr.; four great granddaughters, Sarah Davis, Krystal Gilliam, Amie Stubbs, and Brianna Hofreiter; three great grandsons, Paul Aaron Van Hook, James Davis, and Ian Hofreiter; nine great great grandchildren and many nieces and nephews.

Ruth is also predeceased by a daughter, Carol Singer; a brother, Earl Bailey; a stepdaughter, Elizabeth Perno; a stepson, David Singer Sr.; and a granddaughter, Jennifer Singer.

Funeral services will be held Saturday at 11:00 am from the Charles H. Litwin Funeral Home, 91 State Street, Nicholson with services by Reverend Paul Fields of The First Baptist Church of Factoryville.

Interment will take place in the Washburn Street Cemetery, Scranton.

The family will have calling hours on Friday from 7-9 pm.