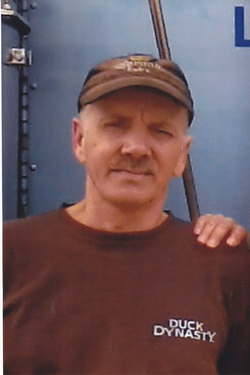 Albert (Ick) R. Lynch Jr., age 52 of Factoryville, died on Monday in Manassas, Virginia.

He is survived by his loving wife of 32 years, Noreen Rogo Lynch.

Albert was born in Herkimer, NY, son of Albert and Betty Sheffler Lynch.

He was owner operator of Lynch Trucking and was leased with Lartz Transportation Services.

When he wasn't on the road, he was working on his truck and spending time with family and friends. He enjoyed quality time with his wife, shooting pool, and hanging with the boys at the garage or the farm.

Albert attended West Canada High School and was a jack of all trades from computers to roofing and carpentry.

Ick leaves behind his daughter, Mindy Spickerman and husband Brice, his daugher Ali Lynch, his two boys (dogs) Spike & Jr.; sisters Yvette (Sissy) Chrisman, Yvonne (Bonnie) Lynch, and April Lynch; and several Aunts, Uncles, Nieces and Nephews.

He was predeceased in death by a son Jacob Lynch, his brother Alfred ( Hank) Lynch, and his grandparents.

Friends may call Monday Nov. 4th at the Charles H. Litwin Funeral Home, 91 State Street, Nicholson from 5-7pm.

In leiu of flowers, donations may be made to the family.