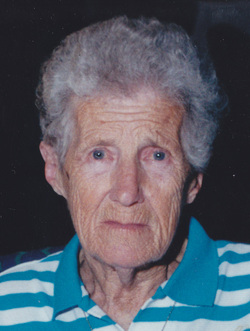 Dolores J. Edwards, 92, of Nicholson, died Friday at home. Her husband, Richard Morgan Edwards Sr., died in 1983.

Born in Carbondale, daughter of the late John and Margaret Knight Walsh, Dolores was a member of the Waverly United Methodist Church, the Ladies Aid Society of the Tompkinsville United Methodist Church, and was president of the Blue Bird class of the Fleetville United Methodist Church. She was also a former president of the Benton Twp. PTA and was a member of the ladies auxiliary of the Fleetville Fire Company.

Surviving are three sons, John, Thomas and David, all of Nicholson; a daughter, Margaret Stine, Hop Bottom; 12 grandchildren; and 11 great-grandchildren.

She was also preceded in death by a son, Richard Jr.; and a grandson, David John Taylor.

A memorial service will be held Saturday at 2 p.m. in Waverly United Methodist Church, by the Rev. Barbara Snyder. Friends may call at the church from 1 until service time. The family wishes to provide the flower arrangements for the service.

Arrangements entrusted to the Charles H. Litwin Funeral Home, 91 State St., Nicholson.