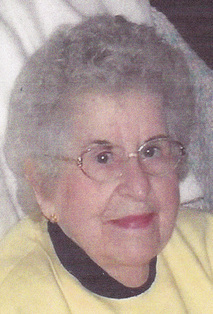 Dorothy Stephens Richards RN of Tunkhannock, "Starkville", Pa. died Tuesday at The Gardens at Tunkhannock.

Her beloved husband, Joseph Richards, died December 18, 1983.

Born in Jan. 18, 1920 in Endicott, NY she is the daughter of the late Winton and Helen Notz Stephens.

She was a graduate of Nicholson High School, Class of 1937, and a graduate of the Scranton State Hospital School of Nursing in 1941. Dorothy was a Registered Nurse. She was in a movie theater in Washington, D.C. when they stopped the film. Over the loud speaker it was announced Japan attacked Pearl Harbor. She was working at that time in a hospital in Washington, D.C. She remembered during the war lights out at night to prevent any of the enemy bomber pilots from seeing the city.

On returning home to Nicholson, she was employed by Marlett Nursing Home and Carpenter Care Center in Tunkhannock. She was a member of the West Nicholson United Methodist Church and its Loyalty Society.

Dorothy was preceded in death by her parents; two brothers, Raymond and William Stephens; and her daughter Yvonne Mayer.She is survived by Yvonne's son, Chris Mayer and wife Amanda.

Also surviving are her stepson Robert F. and wife Diane Richards of Tunkhannock, Pa.; Stepson Joel and wife Linda of Lenexa, Kansas; a stepdaughter, Beryl Jo and husband Robert Clark of Factoryville, Pa.; and her daughter Karen and husband Carlos Salgueiro of New Brunswick, N.J.; and grandchildren Jasmene Nodarse, Nicole Nodarse, Shayla Jones, Robert F. Richards Jr., Holly Richards, Jamie Richards, Bill Clark, Mary Clark, Amy Richards, Kristen Rigdon, Kim Smith, Erin Long, Steve Richards, and Andrea Richards.

Dorothy wish's to thank Dr. Kondash and Dr. Auriemma for all the help they provided over the years.

The family thanks Dr. Gary Russell, Golden Living Center, The Gardens of Tunkhannock, and all the personnel for the care of our mother and especially Hospice.

Funeral services will be held Monday at 5 p.m. in the Charles H. Litwin Funeral Home, 91 State St., Nicholson with services by the Rev. John Shaffer.

Interment will take place in the Nicholson Cemetery.

There will be a viewing Sunday from 5 to 8 p.m. at the funeral home.

In lieu of flowers, donations may be made to the West Nicholson Methodist Church or the Nicholson Fire Company.