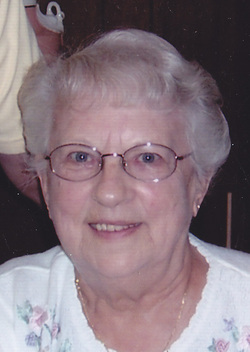 Esther L. Patterson, of Nicholson, PA, passed peacefully at home on Tuesday, February 4, 2014. She was born July 23, 1928, the daughter of the late George H. Richardson and Lula Belle Ellsworth Richardson.

She was raised in North Harford and graduated from Harford Vocational High School in 1946. She was married to Orville S. Hunter, Sr. They raised two children, Orville, Jr. and Karen. She was later married to Buford L. Patterson and lived in Fleetville for many years. After his death in 1988, she lived in Nicholson until her passing.

She was a member and past worthy Matron of the O.E.S. Arbutus Chapter #29, Nicholson, PA. She was a member of the Montrose Chapter of the DAR and the United Methodist Church of Nicholson.

Esther will be sadly missed by her son, Orville S. Hunter, Jr. and wife Ina, of Tunkhannock; her daughter, Karen Rudolph and her husband Robert of Edgewater Park, NJ. She also leaves behind her beloved grandchildren, Elisabeth (Sean) Nolan, Michael (Kristin) Unley, Kirsten and Brett Hunter; four step grandchildren and thirteen great grandchildren; two brothers, George and Gerald Richardson; one sister, June Bishop; one brother in law Dale (Cathy) Steiner; many special nieces and nephews; and many dear friends, including her best friend, "Toby" the cat.

She was predeceased by her sister, Carol Steiner.

We invite all family and friends to share memories of our beloved Mom at a celebration of her life. We will gather at the Harford Congregational United Church of Christ, Harford, PA at 11:00 AM on Saturday, February 15, 2014. Lunch will follow.

In lieu of flowers, donations to the Nicholson Fire Company or an animal shelter of your choice would be greatly appreciated.