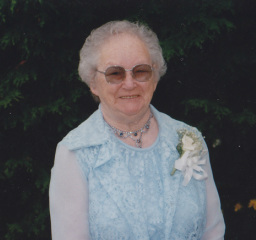 Felicia Ann Blazewicz Kinney, 98, of Hop Bottom, died peacefully on April 2, 2017 at home with her loving daughter, Helen, and her grandson, Bob, by her side.

Born July 16, 1918, in Adams, Massachusetts, she is the daughter of the late Alexander Blazewicz and Anna Chrupsala Blazewicz.

Felicia lived in Adams until the age of 16. Her family moved to Scranton, Pa., so her father could work in the coal mines. The day after they arrived in Scranton, the mines closed. They stayed with relatives in Scranton for a few months until the family moved to a farm in Montrose, Pa.

Felicia met Robert, her husband, at the Montrose Hanger Factory, where she worked till she got married. Robert and Felicia lived in Dimock for three years, then in 1943 they moved onto the Kinney family farm where she spent the next 70 years. Five years ago she moved in with her daughter, Helen.

Felicia was a member of the St. Patrick's Church, Nicholson, Pa. She loved family gatherings, traveling to see her brother, Ed, and her sister, Ann, and attending Pennay's auctions in Hop Bottom. Felicia also liked going out to eat with Shirley, Romaine, Diane, Ellen and Helen for lunch. She loved scratch-off tickets and would often win. She also liked sneaking food to her dogs. Until five years ago, she loved to fish, bowl, mow and weed whack the lawn – of which people would often tease that she could do their lawns.

Felicia was a feisty and independent woman loved by so many in her 98 years. She will be greatly missed.

The family would like to extend a heartfelt thank you to Linda Lewis, Ellen Krucar, Robin Metcalf and Diane Kivak for their help and support.

Surviving are sons, John, Robert and Paul; and daughter, Helen Janesky, all of Hop Bottom; grandchildren, Nikki, Ray, Bob, Steven, R.J., Leigh, Chris and John; great-grandchildren, Zachary, Patrick, Madison, Dakota, Skyler, London, Alexander, Nathaniel, Hunter and Colton; a great-great-grandson, Luka; a brother, Edwin Blazewicz, Rahway, N.J.; a sister, Ann Ryczek, Adams, Mass.; former daughter-in-law, Shirley Kinney; sisters-in-law, Alice Blazewicz, Bonaire, Ga.; Maxine Fox, Kingsley, Pa.; and Jean and Ron Davis, Johnson City, N.Y.; a brother-in-law, Gilbert Acosta, Fernandina Beach, Fla.; a cousin, Gen McParlene, Long Island, N.Y.; and several neices and nephews.

Felicia was preceded in death by her husband, Robert L. Kinney; daughter, Mary Kinney Capoccia; son-in-law, Raymond Janeksy; and daughter-in-law, Judy Kinney. She was also preceded in death by brothers and sister-in-law, John and Vicky Blazewicz and Matthew Blazewicz; sisters and brother-in-law, Jean and Joe Dudek and Irene Acosta. Also brothers-in-law and wives, Boyd and Helen Kinney, Howard and Lorna Kinney, Lois and Clarence Brown, Doris and Jr. Valentine, Marion and Harold Scott, Katherine and Bill Deme and John Fox.

A Mass of Christian Burial celebrated by the Rev. Arbogaste Satoun will be held Wednesday at 11 a.m. in the St. Patrick's Church, 205 Main St., Nicholson.

Those who wish to attend the funeral service are asked to go directly to the church.

Interment will take place in St. Patrick Cemetery, Nicholson.

A viewing will be held Tuesday from 5 to 8 p.m. in the Charles H. Litwin Funeral Home, 91 State St., Nicholson.

Memorial donations may be made to the Hop Bottom Fire Company or the Hop Bottom First Responders.