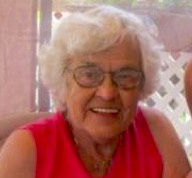 Helen J. Reeves, age 86, of Nicholson and Hop Bottom, died Friday at Meadow View Senior Living Center in Montrose.

Her husband, Ronald, died in 1993.

Born in Eaton, Ohio; she is the daughter of the late Omar and Cora Howell Shade.

She was an avid bowler and big fan of World Wrestling Entertainment.

Helen is survived by two daughters, Carol Ainey and husband Mike, and Rhonda Mills, both of Hop Bottom; one son (Chick) A.M. Reeves, SSgt. USMC (Retired) of Nicholson; one stepson, William Reeves of Pittsburgh; and a son in law, Tom Severcool of Factoryville; six grandchildren, Iantha Mulqueen, Naomi Johnson, Neal Ainey, Ruby Penny, Ron Reeves, and Shelby Billets; fifteen great grandchildren; six step grandchildren; and eight step great grandchildren.

She was predeceased by a daughter, Terry Severcool; a granddaughter Melissa Reeves; and a stepson, Christian Reeves.

A memorial service will be held at the convenience of the family at a later date.