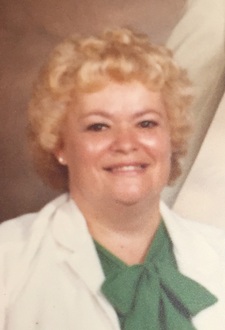 Jean M. Mays Middleton, Nicholson, passed away peacefully in her home on Sunday morning, October 9. She was 85 and received loving, exceptional care from the Hospice of the Sacred Heart nurses and staff.

Jean was the widow of Jack L. Middleton, who died January 16, 2002. She met her husband as a teenager at Lake Sheridan. They were married for 50 years. Together they had four children: the late Sherry Ann Middleton, Dawn Middleton-Paradise, Jack L. Middleton and Clyde K. Middleton.

Born in Scranton, raised in Hamilton Beach, NY, Jean was the daughter of the late Reva Morgan Mays and the late DeMax F. Mays. She was preceded in death by her sister June M. Mays Nelson and is survived by her sister, Joyce M. Mays Sledge.

Jean is also survived by 6 grandchildren: Jack, Zach, Greg, Andrew, Jourdaine and Victoria and by numerous nieces, nephews, cousins, and in-laws.

As a devout Baptist, Jean framed much of her organizational memberships around her faith or pride in her family's roots in America. She was a member of the Eastern Star and the Daughters of the American Revolution and served in both state and national positions.

She was active in the Girl Scouts and the Boy Scouts when her children were young. An exciting time in her life was when she arranged for her Girl Scout troop to visit New York City and to attend the taping of a popular game show, Camouflage. Jean was selected to return as a contestant and became the show's greatest prize winner. Upon returning to her then home in Green Ridge, the whole neighborhood came out to greet her and she rewarded them with a portion of the 40 pounds of ham she won!

Singing was one of her talents and passions. She enjoyed being a featured soloist as a choir member of Green Ridge Baptist Church in Scranton. Additionally, Jean enjoyed her performances as part of the Sweet Adelines.

Jean had other creative talents. She loved producing hand crafts such as knitting, tatting, and needlepoint and making homemade gifts such as Christmas ornaments, shower favors or
wedding accessories like bouquets and centerpieces. When local performances needed assistance with costume design she was happy to help.

Possessing a green thumb is not a strong enough description of Jean's growing skills. She was able to brag that some of her plants were over 50 years old. Her garden began in the house and extended to the outside.

Jean enjoyed opening her home for the annual 'pig roast.' She shared her cooking talents with others through a catering business as well. Jean also eagerly looked forward to her yearly Shaker Seminar attendance and presentations. She developed a passion for Shaker craftsmanship and often spoke of her collection or of the Shaker philosophy. Jean collected vintage and
modern dolls and had a fondness for collecting china associated with the British Royal family too.

Planning a winter escape to her home in Mexico or a trip that took her to destinations around the world was exciting for Jean. She was fortunate to circle the globe twice and would eagerly share her 'finds' upon arriving home.

Possessing a generous spirit Jean wrote that her ideal volunteerism position would be to work with others - for others. Her chosen vocation, nursing, underscored this dedication. To further this pursuit she earned her LPN degree from Mercy Hospital School of Nursing. Additionally, she was a dedicated volunteer for the United Way and for WVIA. Jean was a supporter of many organizations, but one of her favorites was the Kodiak Baptist Mission of Kodiak Island, Alaska which was started by her late husband's family.

The family held a private service that was arranged through Charles Litwin Funeral Home, Nicholson PA and was led by Pastor Paul Fields of UBC Scranton. For those who would like to remember Jean the family has asked that donations be made to the Jack L. Middleton Environmental Scholarship Fund at Keystone College, Office of Institutional Advancement, One College Rd, La Plume PA 18440 or to Sacred Heart Hospice, 100 William St. Dunmore, PA.