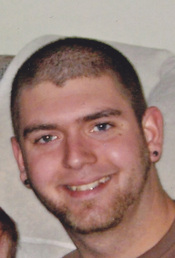 Lucas Ryan Mitchell, age 26, of Hop Bottom, was sadly taken from his family and friends on Monday June 25th.

Luke was the beloved fiancé of Sarah Corey and the father of their two daughters, the loves of his life, Abigail Helen and Molly Patricia.

He was born in Tunkhannock on July 31st, 1985. Luke is the son of Theodore O. zech Jr. & wife Jennifer of Hop Bottom, and Christina Marie Mitchell Walters & husband Roger of Mehoopany.

Luke was employed as a mechanic and truck driver for Clark's Garage of Factoryville and a 2004 graduate of Mountain View High School.

Luke will always be remembered for his ever present smile, quick wit, love of pranks, and of course, his daredevil antics. He was an avid rider of anything on 2,3, or 4 wheels-especially quads. He also enjoyed fishing, hunting, and any activities that involved family and friends.

Luke was that shining star whose twinkle was taken far too soon. Luke was loved by all and will be missed forever.

He is also survived by his paternal grandfather, Theodore O. zech Sr., maternal grandparents, Patricia Waddlington & George Robert Waddlington; step-grandparents Frank & Carol Remick and Lyman & Charlene Walters; four younger brothers Jody, Tyler, Roger, and Alex and a sister Samatha; and many aunts, uncles, nieces, nephews, & cousins.

Funeral services will be Saturday at 11:00am from the Charles H. Litwin Funeral Home, 91 State Street, Nicholson with services by Pastor Phillip Richardson of the Hop Bottom United Methodist Church.

Interment will be held in the Nicholson Cemetery.

Calling Hours will be Friday from 5-8 pm.

Donations may be made to the family for Lucas's two beautiful girls.