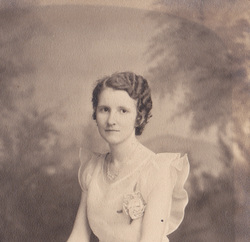 Margaret Ellen Gamble, age 98, of Kingsley, died Friday at the Forest City Nursing Center.

Her husband, Michael, died in 1980.

She was born in Scranton on July 23rd, 1914; daughter of the late Lee and Mary Gow Grinell.




Margaret was a graduate of Harford High School and a member of the 1st Congregational Church of Harford United Church of Christ and also attended the West Lenox Baptist Church.

She enjoyed gardening, sewing, baking, and spending time with family and friends.

Margaret is survived by a daughter, Beverly Herbert and husband Lewis of Hop Bottom; a son, William of Scranton; two sisters Virginia Brainard and Eleanor Jesse of Gracious Living Estates, South Montrose; ten grandchildren; seventeen great grandchildren; four great great grandchildren; one niece and several nephews.

She was predecease by two sons, Niel and Gary.

Funeral services will be held Monday at 1:00pm from the Charles H. Litwin Funeral Home, 91 State Street, Nicholson.

Interment will take place in the South Gibson Cemetery.

Friends may call Monday from 11:00 am until service time.