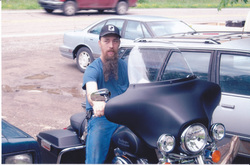 Melvin (Toyts) D. Oakley, age 50, of Hop Bottom, died Sunday at Geisinger Community Medical Center in Scranton.

His wife is the former Ruth Frankovsky. They would have been married 27 years on September 23rd.

Born in Peckville, he is the son of the late Melvin and Zelda Mae Beynon Oakley.

Melvin was employed by Scranton Craftsman and was a graduate of Lakeland High School. He enjoyed riding his motorcycle, hunting, and spending time with his children, nieces and nephews. He was all about the kids.

Melvin is also survived by a son Theodore and a daughter Alicia, both of Hop Bottom; a brother, Ben and wife Michele of Scott Township; two sisters, Alzaida Jo Seigfried and husband Rich of Newfoundland and Zinda Lue Liford and husband Jerry of South Gibson; and nieces, nephews, aunts, uncles, and cousins.

Melvin was predeceased by a sister, Sarah Valentin.

Friends may call Thursday from 4-8pm at the Charles H. Litwin Funeral Home, 91 State Street, Nicholson.

Cremation following calling hours by R.H. Jones Crematory, Tunkhannock.

In lieu of flowers, donations may be made to the American Cancer Society.