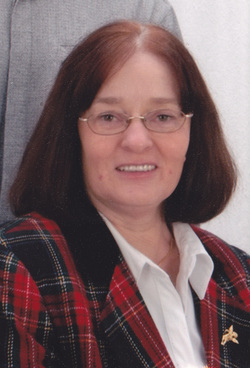 Mildred Ann Kwiatkowski, age 63, of Nicholson, passed away peacefully Monday surrounded by her family at the Regional Hospice at Regional Hospital of Scranton.

Her husband is Alan Kwiatkowski and they have been married for 44 years.

Born in Scranton, Mildred is the daughter of the late Joseph and Mildred Ann Alvord Schmidt.

She was President and Co-Owner of Northeast Signal and Electric Co. and formerly owned MAK Ceramics where she taught ceramic classes. She also was formerly employed by Anemostat.

She was a member of the Saint Patrick's Church in Nicholson and was on the church Bingo staff. She was active in the church activities and many charities.

Mildred is also survived by five sons, John, Paul, Mark, Michael, and Alan Jr.; four sisters, Beverly Yanik, Barbara Schmidt, Donna Graziano, and Deborah Watts; three brothers, Joseph, Ronald, and Frank Schmidt; and thirteen grandchildren.

She was also predeceased by a brother, Leon.

A Mass of Christian Burial will be Saturday at 10:00 a.m. in the Saint Patrick's Church, High Street, Nicholson, celebrated by Father Thomas Petro.

Those who will be attending the Mass should go directly to the church.

Interment will take place in the Nicholson Cemetery.

A viewing will be held on Friday from 1-3 p.m. and 5-8 p.m. at the Charles H. Litwin Funeral Home, 91 State Street, Nicholson.