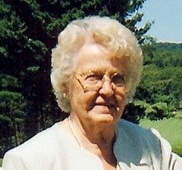 Mildred Krizauskas, 96, of Nicholson, died Monday at the Golden Living Center in Tunkhannock.

Mildred was born Feb. 13, 1920, in Jessup, to the late George and Anna Kolesar Paranich.

She grew up in Jessup, and spent most of her life in and around Nicholson. She was a devout member of St. Patrick's Church.She lovingly cherished her family, her unfailing faith and enjoyed gardening, baking, bowling, plus endless church activities.

Surviving Mildred are her nine children, Judith and husband, Eugene Corcoran, of Linwood, N.J.; John, of Boron, Calif.; Sandra and husband, Fred Vineyard, of Egg Harbor Twp., N.J.; David and wife, Karen, of Lenoxville; Timothy, of North Pole, Alaska; Joseph, of Nicholson; Marion and husband, Peter Marisco, of Egg Harbor Twp., N.J.; Edward, of Susquehanna; and Michael and wife, Janine, of Absecon, N.J.; 12 grandchildren; 13 great-grandchildren; and 1 great-great-grandchild.

She was also preceded in death by her husband, Paul Alexander Krizauskas; son, Paul Alexander Krizauskas Jr.; sisters, Julia Dolinsky, Mary Gaydosh, Kathryn Hudak and Anna Tomko; and brothers, Andrew Paranich, Michael Paranich, George Paranich and John Duchak

.A Mass of Christian burial will be held Monday at 11 a.m. in the St. Patrick's Church, 205 Main St., Nicholson, celebrated by the Rev. Arbogaste Satoun.

Viewing will be held at the church from 10 until service time.

Interment will held in the Fairview Memorial Park.