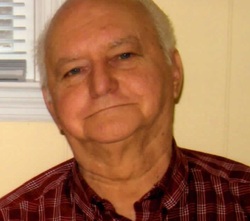 Richard Cleah Wagner, 79, formerly of Acre Lake, Kingsley, PA, entered into eternal rest on April 14, 2013 at Spartanburg Regional Hospital in Spartanburg, SC. He was the husband of Carol Thomas Wagner of Moore for over 55 years and the son of the late Forrest Wagner and Madelyn Rockwell Wagner Lindsey Bell of Nicholson, PA.

He graduated from Nicholson High School, Keystone College, East Stroudsburg State College with post grad courses at University of Scranton. He worked for the Mountain View School District for 31 years teaching Biology, Social Studies, driver education and wherever he was needed. He also held the positions of Athletic Director, Wrestling Coach and Class Advisor for several classes.

He was a member and Past Master of Harford Lodge #445 where he held the position of secretary for over 25 years and he was also a member and Past Patron of Prosperity Chapter #83, both of Hop Bottom, PA. Richard was of the Christian Faith and attended West Lenox Baptist Church, Kingsley and Center Point Presbyterian Church of Moore, SC. He loved hunting, fishing, dancing, playing his fiddle and calling square dances. He was proud of his family and they were important to him.

Survivors also include two sons, Richard F. and wife Teresa and Dr. Jeffrey and wife, Ren both of Moore, SC; a daughter, Kate, husband, Shawn of Kingsley, PA; a brother, Robert Wagner, wife, Celia ; a half brother, Gerald Lindsey, wife Marlene both of Nicholson, PA; grandchildren, Ryan Wagner, wife ,Sara of Campobello, SC, Chance, Tricia and Allie Wagner, Tyler Nelson of Moore, SC, Madison Wagner of Kingsley, PA and Derek and Amy Mashburn of Ojai, CA.

Funeral Services will be Saturday, April 20 at 11:00 am in the West Lenox Baptist Church with Reverend Russell Lockwood officiating.

The family will receive friends from 6:00 to 9:00 PM Friday at Charles H. Litwin Funeral Home, 91 State Street, Nicholson.

Masonic Services will be conducted at 8:00pm by Harford Lodge #445.

Interment will be held in the Tower Cemetery, West Lenox, following the funeral service.

A special thanks to the nurses and doctors of Scranton and Spartanburg Dialysis Centers and the nurses at Emeritus at Skylyn Place Assisted Living, Spartanburg.

Memorials may be made to Shriner Hospital for Children, 950 West Faris Rd. Greenville, SC 29605 or the American Diabetes Association, 701 Grove Road, c/o Greenville Hospital System ISC-3rd Floor Greenville SC 29605.