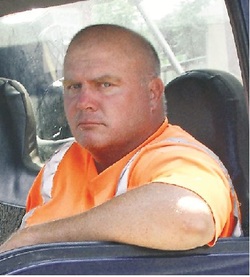 Robert J. Padula Jr., age 49, of Nicholson, passed away Tuesday May 29th at Tyler Memorial Hospital, Tunkhannock.

He was born in Paterson, New Jersey, the son of Robert J. Padula Sr. and Catherine Duffy Padula of Nicholson. Bob was a member of St. Patrick's Church in Nicholson, attended Nicholson Elementary and graduated in 1980 from Lackawanna Trail High School, where he played football, wrestled and participated in the co-op program working in his family's business, Padula & Sons Excavating. He became President of the third generation Padula & Sons Excavating, bringing it successfully into the 21st century with his father, Robert Sr.

Bob enjoyed working, hunting, fishing and being with his six nieces and nephews, Ethan, Wyatt, Finn, Rachel, Patrick and Joseph.

Bob also is survived by two sisters, Cathy Cawley and husband, Kevin of Abington, Pa.; Joann Ritter and husband, Brian of Nicholson; many Aunts, Uncles, cousins, as well as dedicated employees — his honorary brothers.

He was predeceased by his younger brother, Angelo, who passed away in 1990.

Funeral services will be Saturday June 2nd from the Charles H. Litwin Funeral Home, 91 State St., Nicholson, with a Mass of Christian Burial at 11:00 a.m. in St. Patrick's Church, High Street, Nicholson, celebrated by Father Thomas Petro. Interment will take place in St. Michael's Cemetery, Starkville.

Viewing will be held on Friday June 1st from 5 to 8 p.m. In lieu of flowers, Bob's family asks that you do a good deed for someone today and pass along Bob's good nature.