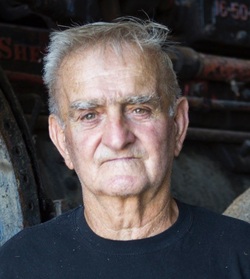 Robert "Bob" Padula Sr. of Nicholson, Pennsylvania died April 20 at home.

He is survived by his wife, Catherine; daughter, Cathy Cawley (Kevin), of Abington, Pa.; daughter, Joann Ritter (Brian), of Nicholson; and grandchildren, Rachel, Patrick, Joseph, Ethan, Wyatt and Finn; and brother, Dominic.

Bob was predeceased by his sons, Angelo and Robert Jr.; along with his siblings, Sally, Samuel, Angelo, Anna, Carmella, Arsenio, Anthony and Philip.

Bob was born in Paterson, N.J. and was a veteran who served in the Army. He was a skilled heavy equipment operator who continued his family's excavating company, Padula and Sons Excavating, when he moved to Pennsylvania.

Bob was an honest, fair, hardworking businessman who also took care of his neighbors and community. He served as a member of Wyoming County Democratic Committee for decades; he was Nicholson township supervisor for several years; a faithful parishioner at Saint Patrick's Church of Nicholson; and drove bus #12 for Lackawanna Trail School District for over 35 years and always volunteered the bus to local sports teams and fans for travel.

Bob enjoyed collecting antique machinery and had a prized collection of steam engines. He was a member of the Rough and Tumble Engineers Historical Association.

Bob had a wonderful sense of humor and was always ready to help a friend in need. He was most proud of his family and enjoyed having his grandchildren and dogs with him wherever he went. He will be truly missed by his many nieces, nephews and extended family who cherished their time spent at Padula Farm.

A Mass of Christian Burial celebrated by Rev. Arbogaste Satoun will be held on Saturday, April 29 at 11 a.m. in the St. Patrick Church, 205 Main Street, Nicholson.

A viewing will be held Friday, April 28 from 4 to 7 p.m. in the Charles H. Litwin Funeral Home, 91 State Street, Nicholson.

The family will also receive friends Saturday, April 29 from 9 to 10:30 a.m. at the funeral home prior to Mass.

Interment will be at the convenience of the family.

In lieu of flowers, the family suggests that contributions be made to Nicholson Athletic Association, P.O. Box 342 Nicholson, PA 18446; or to the charity of your choice.