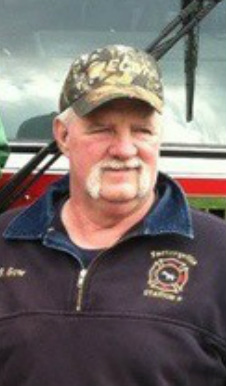 Russell David Gow III, age 58 of Factoryville, died Thursday doing what he loved;
courageously answering his final call.

His wife is the former Sharon Butler. They were married February 22, 2013.

Born in East Benton, he is the son of the late Russell Gow Jr. and Evelyn Davis Gow.

He graduated from Lackawanna Trail High School and was employed by Nexius
Solutions of Clarks Summit as a warehouse manager.

Russ enjoyed the outdoors and was an avid hunter and fisherman.

His passion was truly community service, in every way. Russ is very well known and
respected for his duties as a dedicated first responder and as a loving community servant.

Russ served as a 43 year life member of the Factoryville Fire Company, he previously
served 10 years as Chief and was currently serving as Assistant Chief and Trustee, a 40 year
member of the Nicholson Fire Company, a member of the Fleetville Fire Company, President of
the Abington Area Line Officers Association, former instructor of the Northeast Pennsylvania &
Susquehanna County Volunteer Firemen's Association, a member of the Scott Dive Team,
former zoning officer for Newton Township, and a member of the NRA.

He also was a loving husband, father, and grandfather. He especially loved spending
time with his grandson, his little buckwheat, Brian Russell.

Russ is survived by one son, Brian J. Gow and fiancée Kara Waters; one daughter,
Holly Ward and husband Lance; a stepson Nick Edder and wife Jodie; a stepdaughter, Jennifer
Edder; a grandson, Brian Russell Gow; a step granddaughter, Emma Jean Edder; two brothers,
Dale Gow Sr. and wife Ann, Robert Gow and wife Kathy; two sisters, Lynda Nepa and husband
Gerry, Bonnie Watson and husband Curly; and Aunt Marge Black.

He was predeceased by a brother, Lee Gow, and a nephew, Jeffrey Watson.

Funeral services will be Monday the 25th at 11:00am from the Charles H. Litwin Funeral
Home, 91 State Street, Nicholson, with services by Factoryville Fire Company Chaplan Rev. Paul Fields.

Interment will take place in the East Benton Cemetery.

Viewing hours will be on Sunday the 24th from 3-7pm.

In lieu of flowers donations, may be made to the Factoryville Fire Company, P.O. Box 275, Factoryville, Pa.18419.