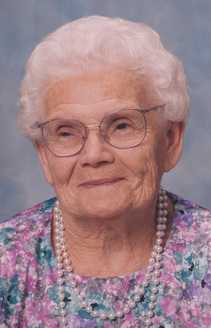 Susan Golomboski, age 99, formerly of Nicholson, died Friday at the Golden Living Center in Tunkhannock.

Her husband, Michael Golomboski, died October 6, 1976.

Born in South Sterling August 8, 1914 she is the daughter of the late Andro and Tonyka Lenjo Forkal.

Susie was the oldest member of the West Nicholson United Methodist Church. She was very hardworking having worked on the family farm for many years.

In her later life she was a devoted caregiver to many families. She enjoyed children, the outdoors, gardening, and canning.

Susie always had a smile and was very much loved by her daughter Evelyn "Sally" Arnold and husband Herbie of Clifford Township and her daughter Helen "Tiny" Carpenetti who died in February.

She loved her grandchildren, Leo Carpenetti and wife Debra of Scott Township, Robert and wife Penny of Milford, David and wife Mary Kay of Nicholson, Pat Carpenter and husband Carl of Factoryville, Monica Turner of Nicholson, Kathy Arnold of Kansas, and Jeff Arnold of Clifford Township. Susie also is survived by many great and great great grandchildren and nieces & nephews.

Susie is the last of her family being predeceased by Anna, Mary, Julia, Catherine, Dorothy, Marguerite, Andy, Mike, and Steve.

Funeral Services will be Monday at 10:00am in the Charles H. Litwin Funeral Home, 91 State Street, Nicholson with services by Pastor Margaret M. McCarty of the West Nicholson United Methodist Church.

Interment will be held in the St. Michael's Cemetery in Starkville.

A viewing will be held on Sunday from 6-8pm.

Donations may be made to the Hospice of the Sacred Heart, 600 Baltimore Drive, Wilkes Barre, Pa. 18702.