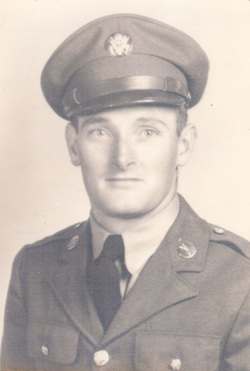 Victor Leland Johnson, 98, of Summerfield, Fla., formerly of Hop Bottom, died Friday at Hospice of Marion County in Ocala, Fla.

His first wife, Geraldine Irene Johnson, died in 1985, and his second wife, Alice Brundage, died in 1998.

Born in Dimock, son of the late Hayden and Celia Miller Johnson, he was a member of the Hop Bottom United Methodist Church since 1948 and a 1934 graduate of Hop Bottom High School.

Victor was a World War II Army veteran, having served from 1942 to 1948 and achieving the rank of sergeant first class.

Before retiring, he had worked as a mechanic for John McNulty Farm Machinery from 1948 to 1963, PennDOT from 1963 to 1968, and J.C. Penney from 1968 to 1981.He served on the Mountain View School Board for 27 years and was a Boy Scout leader from 1959 to 1967, serving as an institutional representative, committeeman, advisor, Cub Master and Scout Master.

He was a lifetime member of the Hop Bottom Hose Company.

Surviving are a daughter, Eloise Cobb and husband, Paul; three sons, Bruce Johnson and wife, Pat; Terry Johnson and wife, Margaret; and Barry Johnson and wife, Donna; a sister, Eleanor Sturgis; his companion, Mae Dunbar; and her son, James; 11 grandchildren; 18 great-grandchildren; and a great-great-grandson.He was also preceded in death by a brother, Don; and two sisters, Lillian Bean and Josephine Brink.

Funeral services with military honors will be Friday at 11 a.m. in the Charles H. Litwin Funeral Home, 91 State St., Nicholson, with services by the Rev. Phillip Richardson.

Interment will take place in the Nicholson Cemetery at a later date.A viewing will be held Thursday from 6 to 8 p.m.

Donations may be made to the Hop Bottom United Methodist Church.