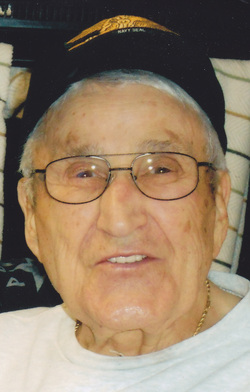 Walter Mackiw passed away peacefully Saturday at his home in Nicholson surrounded by his family and friends.

Walter was born Sept. 22, 1924, in Scranton, Pa., son of the late Paul and Mary Gluck Mackiw. Mr. Mackiw was married on Nov. 28, 1953, to MaryAgnes Mackiw, who passed away March 17, 2009.

Mr. Mackiw was a member of St. Patrick's Church in Nicholson. Prior to retirement, he was a Pennsylvania State Trooper and transportation director at Lackawanna Trail. Walter was a state trooper for 32 years and also served in the Air Force for seven years.

Walter was an avid hunter and fisherman and also enjoyed spending time with his friends. He was a proud member of the "Sick, Lame and Lazy" fishing club.

Walter's greatest joy and love in his life were Sunday dinners with his son and daughter-in-law.

Walter is survived by a son, Michael and wife, Judy Mackiw, of Alexandria, Virginia.

He was predeceased by two brothers; Edward and Paul Mackiw of Pittsburgh, Pa.

A memorial Mass celebrated by Father Thomas Petro will be held on Friday at 11 a.m. in St. Patrick's Church, High Street, Nicholson. Those attending Mass are asked to go directly to the church.

There will be no visitation. Interment of ashes will take place in Indiantown Gap National Cemetery, Annville, Pa., at the convenience of the family. Memorial donations may be made to the Salvation Army.