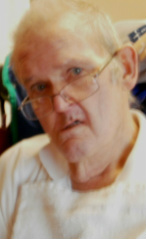 William W. Jendrek, age 76, formerly of Nicholson, died Monday at the Carbondale Nursing Home. His wife, the former Ruth Ann Rogers, passed away in 2010.

Born in Baltimore MD., he is the son of the late Leo and Carrie Heinmiller Jendreck.
Prior to retiring, he was employed by Beloit Manhattan in Waverly for 23 years.
The family would like to thank the staff of the Carbondale Nursing Home and Hospice of the Sacred Heart for their support and care.
William is survived by two sons, Phillip White and Ken Jendrek, both of Clarks Summit; three daughters, Rebecca Empet of Vandling, Robin Ward of Nicholson, and Pam Ross of Clarks Summit; one brother, Richard Jendrek of Berlin, MD.; nine grandchildren and three great grandchildren.
Funeral services will be Saturday at 2:00pm in the Charles H. Litwin Funeral Home, 91 State Street, Nicholson with services by Rev. Linda Eckersley.
Interment will be in the Sandy Bank Cemetery, Greenfield Township.
Friends may call on Saturday from 1:00pm until service time.