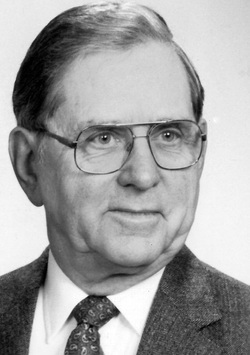 George Wesley "Wes" Herron Jr., 94 years old, of Nicholson, Pa. passed away peacefully at his home on Sunday March 24, 2013 surrounded by his loving family and his loyal and faithful cat "Pixie" at his side.
Wes was born in Binghamton, NY on December 19, 1918, son the Late George Wesley Herron Sr. and Lillian Richards Herron. He lived his entire life in Nicholson and graduated from Nicholson High School Class of 1936. He served his country during World War II in the United States Army and attained the rank of Captain. His tour was in the European Theater of Operations, Engineers Division, and in Africa.
On September 1, 1945, Captain Herron married his childhood sweetheart Ella Jeffers Hanna, formerly of Philadelphia at the home of his aunt and uncle, the late Francis and Ethel Herron Slocum at Tunnel HIll, Nicholson, Pa.
Wes and Ella started their career as owners of Nicholson Lumber Company in 1945 and operated a home improvement company and later operated Herron Lumber in Tunkhannock, Pa. His Ella passed away on November 21, 1989. Wes continued to own and operate Nicholson Lumber Co. with his son William until 1996 when his grandson Bruce William Herron purchased Nicholson Lumber. Wes continued to work each day at his former business and see andhelp all his friends and neighbors. In September of 2011 at the age of 92, just a few weeks before his 93rd birthday, he broke his hip. By January of 2012 he returned to his beloved business and worked again each day till his final illness.
Wes was a true Christian and practiced his faith and love of God each and every day of his life in his love of family, friends, and his church family and people in general. The help he lent to those who needed it, and unclaimed generosity went with him to heaven.
He was a member of the Nicholson United Methodist Church for more than 75 years. He was a trustee and member of the official board, former chairman of the finance committee, worked at the annual fall turkey bazaar and all the fund raising events. He maintained all repairs and daily maintenance of the coal furnaces to heat the Church until the age of 92 years. He was a past member and officer of the Nicholson Rotary Club. He was honored as a board member and director of the First National Bank of Factoryville and the Wyoming National Bank. He was honored by Tyler Memorial Hospital for his many years of service on the Foundation Board and Board of Directors. He was proudly honored in 1974 by Pioneer District of Forest Lakes Council, Boy Scouts of America, Order of Merit Award for his many years of service as a scout master and leader of Troop 172 and for all the help and guidance he gave all the boys in his troop over the years. He was so proud that he help guide many young boys into manhood and he was extremely proud that two of his scouts became United Stated Congressmen. Others became doctors, lawyers, scientists, engineers, and businessmen. He kept friends with them until the end of his life.
On February 3,1996 he married Eva Cline Wescott of Nicholson and she passed away on May 24, 2005.
He is survived by his son William and hos wife Linda (Haussler) of Nicholson, his grandson, caregiver, and pal, Bruce William Herron and wife Michelle (Ross) of Nicholson, great grandson Evan Bruce Herron and great granddaughter Emily Katharine Herron of Nicholson, a step-son Bradley Wescott and wife Sandy (Williams) of Nicholson and several cousins.
He was predeceased by his parents, grandparents, and great grandparents, aunts & uncles and cousins. His in laws, William and Mary Hanna, two brother in laws Edward and George Hanna and wife Marquerite.
His family wishes to say a heartfely "thank you" for excellent care to Dr. Gary Russsell and Fred Kovalchick, PA, at Geisinger Office, Nicholson. All his doctors, nurses, and aides at Geisinger Wyoming Valley, Wilkes Barre, and Golden Living, Tunkhannock. To all his friends and neighbors in Nicholson, Dalton, Honesdale, Factoryville, Tunkhannock, and Hop Bottom for the love, prayers, cards, and visits. Pastor John Shaffer, Nicholson United Methodist Church for all his prayers, visits, and kindness, his church family and friends for prayers, visits, acts of love and kindness and food donations. Employees of Nicholson Lumber Co. and Herron Lumber Co., his loving care givers and Sacred Heart Hospice nurses who took such loving and skillful care of our dear father, grandfather, and great grandfather at home in the final weeks and days.
His family will always remember all of you for giving love, honor, and dignity to our "Wes" right to the end. Over prayers and love and heartfelt thanks to all.
The funeral with full military honors will be at the Nicholson United Methodist Church, State Street, Nicholson on Thursday at 11:00am with Pastor John Shaffer officiating.
Burial in the Herron family plot at the Nicholson Cemetery.
Viewing will be in the Charles H. Litwin Funeral Home, 91 State Street, Nicholson on Wednesday from 2-4 & 6-8pm.
The family requests that in lieu of flowers the acts if remembrance be made to the Nicholson United Methodist Church Memorial Fund C/O PO Box 590 Nicholson, Pa 18446 or the donors favorite charity in his honor.