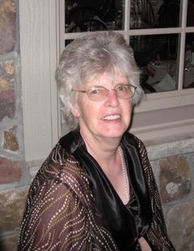 Evelyn Jerauld, 76, of Nicholson died
Wednesday
, June 9 at home.
Her husband, James Jerauld, died in 2004.
Born October 28, 1940, in Norwalk CT, to Evelyn G. Wood (Readman) and Charles R. Wood, she spent much of her childhood in Connecticut, moving to Nicholson, PA in 1951. She attended and graduated from Nicholson School in 1958.
While at school, she met and later married, James D. Jerauld of Nicholson. Nicholson became her home.
Evelyn was a mom and is survived by her 4 children. She loved being a mom; she taxied her kids everywhere and went to every sporting event, team celebration, banquet and graduation. She was always there for her children.
Evelyn is described by many as a lovely woman. She believed, if you couldn't say something nice, then you shouldn't say anything at all. She loved visiting family, her monthly card games, going to retreats, and earlier in life getting to know people by taking the Census, working the Voting booth, delivering Meals on Wheels, and volunteering with the Nicholson Women's Club to help launch Bridge Days.
She passed unexpectedly from a very aggressive Pancreatic Cancer; the doctors and nurses at The Abramson Cancer Center at the University of Pennsylvania Hospital were wonderful.
Contributions can be made in Evelyn's memory to support the Pancreatic Cancer Research Center Fund at Penn Medicine's Abramson Cancer Center. Checks should be made payable to 'Trustees of the University of Pennsylvania' and indicate 'Evelyn Jerauld' on the check memo line or on note with gift. Please mail checks to: Penn Medicine Development, Attn: Liz Watkins, Pancreatic Cancer Research Center Fund,
3535 Market Street, Suite 750, Philadelphia, PA, 19104
.
Evelyn is survived by a brother and the families of her three sons and daughter. She will especially be missed by her loving grandchildren.
A memorial service will be Saturday, October 14, 2017 at 2 pm at the United Methodist Church, 64 State St., Nicholson, with services by Pastor John Shaffer. Visitation will be at the church from 1 to 2 pm.
Interment will be held in the Shoemaker Cemetery, Dalton.