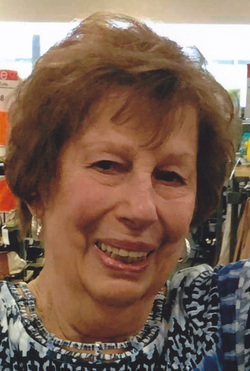 Elizabeth "Betty" Boginski, 91, of Nicholson, died peacefully Saturday, April 29.

Betty was born in Nicholson April 16, 1926, to the late Joseph and Elizabeth Moyer Eckert.

Betty was preceded in death by her loving husband, Joseph, in 2010.

Betty was a passionate and dedicated mother and friend and she radiated with her gentle nature and infectious smile.

She was an avid walker and enjoyed activities such as line and tap dancing, golfing and playing cards and belonged to a Book Club, Lunch Bunch group and the Nicholson Woman's Club. She delighted in spending time with her family laughing, playing games and sharing stories.

Betty was lifelong member of St. Patrick's Church, a member of the Altar and Rosary Society and Divine Mercy prayer group.

She and her family owned the Palace theaters in Nicholson and Hallstead.She was a graduate of Lackawanna Business school, Scranton, and worked at Williams Bakery, Binghamton, N.Y., before she was married. She was a teacher's aide at Nicholson and Factoryville elementary schools from 1972-1996.

Betty is survived by four daughters, Jean Knight and husband, Reggie; Debbie Smith; Lois Boginski; and Lisa Beller and husband, Robert; nine grandchildren, Sara Jordan, Travis Boginski, Ryan and Jason Smith, Blake Spanel, Casey and Lauren Noreika, Spencer and Claudia Beller, and 10 great- grandchildren.

She was preceded in death by her son, Karl, and two brothers, Harry and Karl.

A Mass of Christian Burial celebrated by the Rev. Arbogaste Satoun will be held Wednesday at 10 a.m. in St. Patrick Church, 205 Main St., Nicholson.

Interment will take place in the Nicholson Cemetery.

A viewing will be held Tuesday from 5 to 8 p.m. in the Charles H. Litwin Funeral Home, 91 State St., Nicholson.

In lieu of flowers, donations may be made to St. Jude Children's Research Hospital.