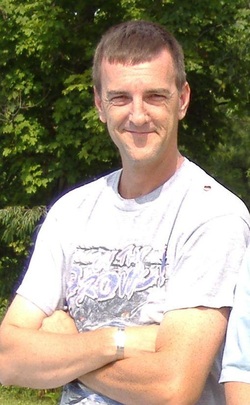 George Gilbert Schumacher, 51, of East Lemon, died Thursday June 7th, at Frederick Memorial Hospital, Frederick, Maryland, after being stricken ill.

His wife is the former Jean Ann Oakley, she was the love of his life for 15 years.

Born April 22, 1961, in Scranton, PA, he was the son of Elizabeth Briel Schumacher of Clarks Summit and the late George Gilbert Schumacher.

He grew up in Clarks Summit, and graduated from Abington Heights High School, class of 1980. After graduation he joined the United States Marine Corp and served as a military policeman. He fought in Desert Storm during the Iraq War.
After his service, he returned home to Northeast Pennsylvania and started to work in the trucking industry. He was currently employed by Meshoppen Stone, Meshoppen, Pa. George loved to travel on the open road, traveling from state to state, and always by his side, even at the end of his life, was his faithful and loyal companion, Brindle, his black lab. George was a huge fan of NASCAR and loved to watch the races on the weekends. He had a hobby of collecting old trains and would spend several hours working on them. George left this earth too soon and his dry savvy wit will be sorely missed.

Also surviving are George's sisters; Marie Genuario, Collegeville, Pa.; Karen Adams, Pensacola, Fl.; Elaine Smith, Clarks Summit; Betsey Gervasi, Burlington, NJ and Jennifer McKinley, Greenville, SC.

A Blessing Service by Father Thomas Petro will be held on Tuesday the 12th at 11:00am at the Charles H. Litwin Funeral Home, 91 State Street, Nicholson, Pa.

Interment will follow in the Nicholson Cemetery with military honors by Nicholson American Legion Post#953.

George's family will receive friends on Monday from 4 to 8 p.m.

In lieu of flowers donations are asked to offset the medical fund for George's care at the hospital.