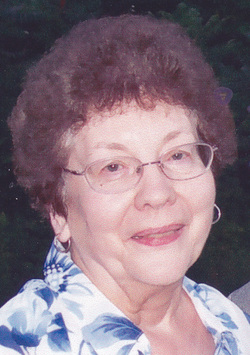 Elaine Herman passed into the hands of the Lord on Tuesday March 25th, 2014, at the age of 79. Elaine was born in 1934 in West Nicholson, PA and graduated from Nicholson High School in 1952. She went on to graduate from Mansfield University in 1956 with a degree in elementary education. She played trombone in the marching bands at both schools. Subsequently, she taught in Tunkhannock.

She married Robert Herman of Tunkhannock in 1957 and spent the next 25 years traveling the world with him and the Air Force – from the pagodas of the far east to the castles of Europe. They returned back to the family farm in West Nicholson in 1981. They were married 56 years.

Elaine enjoyed exploring history throughout her life, square dancing (having danced under the Eiffel Tower), cake decorating (creating beautiful wedding cakes), was a voracious reader and had a soft spot for animals and ice cream. She also played the piano and organ at West Nicholson UMC for the past 20 years. She was a dedicated church worker and volunteered at a number of local organizations including the Nicholson Fire Company Auxiliary, the Wyoming County Fair, and the Elections Commission among others.

Elaine was the daughter of the late Kenneth and L'Neita Rogers of West Nicholson. She is survived by her husband Bob, daughter Cathy, and son Steve; sister June Wadlington and brother Carl Rogers; 5 grandchildren and 9 great-grandchildren. She is predeceased by a sister, Ruth Ann Jendreck.

The family will receive visitors from 6-8pm on Friday, March 28th, at Charles H. Litwin Funeral Home, 91 State Street, Nicholson, with a funeral service to follow on Saturday, March 29th, at 10:00am at the West Nicholson United Methodist Church. Interment to follow at Nicholson Cemetery with a luncheon at the church directly thereafter.

In lieu of flowers, contributions may be made to the West Nicholson United Methodist Church, PO Box 151, Nicholson, PA 18446, or to the Griffin Pond Animal Shelter, 967 Griffin Pond Road, South Abington Twp., PA 18411.