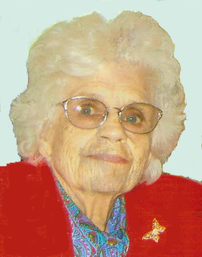 Helen Saxton, age 97, of Nicholson, died Tuesday at home. Her husband, Hugh R. Saxton, died Sept. 11, 2001.

Helen was born August 14, 1917 in the same house she passed away. She is the daughter of the late Grover and Mamie Jayne Billings.

Prior to retiring, she was a clerk in the Nicholson Post Office for many years. She was a graduate of Lackawanna College and a member of the Nicholson United Methodist Church.

She was very active in Nicholson community affairs, organizations, and was a member of the Nicholson Women's Club. She loved gardening and was a Meals on Wheels provider. She made the very best "Mom's" Apple Pie.

Helen is survived by three sons, former Congressman Hugh James Saxton, Philip Saxton, and Donald Saxton; one daughter, Marjorie Hazen; eight grandchildren; and ten great grandchildren.

A memorial service will be held Saturday, January 10th at 2:00pm in the Nicholson United Methodist Church with services by Rev. John Shaffer.

Interment will be held in the Nicholson Cemetery at the convenience of the family.

In lieu of flowers, the family requests memorial donations be made to the Nicholson Heritage Association, P.O. Box 496, Nicholson, Pa. 18446 to help fund the restoration of the DL&W Railroad Station.