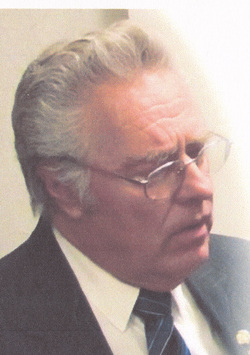 Ronald Barankovich, age 72, of Hop Bottom, passed away unexpectedly Tuesday, May 12 at his home.

He is survived by his wife of 33 years, Patricia Fallon Barankovich.

Ronald was a teacher at Mountain View High School for 33 years, where he taught woodworking and was a cross country coach. He also taught adult woodworking classes and was an instructor for hunter safety courses.

He was a graduate of Edison High School in New Jersey and Newark State College.

Ronald served in the 109th division of the Army Reserves for 23 years.

He also was a member of the Hop Bottom Borough Council for 35 years and an officer of the Grace Lutheran Church.

Ronald was an active member of the Free and Accepted Masons 15th Masonic District, Harford Lodge #445, serving twice as Worshipful Master.

Ron was known for helping anyone who was in need, working around the home and walking his dog, "Sammy."

Ron is also survived by his two sons, Ronald Barankovich and wife, Jeanne; and John Barankovich and companion, Sharon Choplosky; three daughters, Stephanie Rennie and husband, Jim; Melissa Hardy and husband, Chad; and Elizabeth Holden and husband, Patrick; two sisters, Sondra Magaw and Susan McClaud; a brother, Roy Barankovich; seven grandchildren, William Hardy, Alex and Mikenzie Barankovich, Rylee and Dominic Hardy, and Kody and Shelby Rennie; and several nieces and nephews.

He was predeceased by his parents, Stephen Barankovich and Rose Barankovich Kakuk; and a stepson, Richard Stoddard.

Funeral services will be Saturday at 11:00 a.m. in the Grace Lutheran Church of Hop Bottom.

Interment will follow with military honors by Elk Mountain VFW Post 8488 in Maplewood Cemetery, Kingsley.

A viewing will be held on Friday from 4-8 p.m. in the Charles H. Litwin Funeral Home, 91 State Street, Nicholson. Masonic services will be held at 7 p.m.

In lieu of flowers, donations may be made to the Grace Lutheran Church of Hop Bottom or the Ronald Barankovich Scholarship Fund at the People's Security Bank in Hop Bottom.