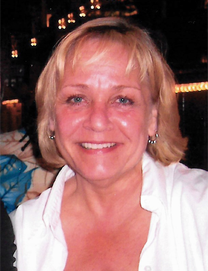 Barbara "Bobbie" Wright died Saturday at Hospice of the Sacred Heart in Dunmore after a courageous battle with cancer.


Born in Hazleton, the daughter of Charles and Catherine Wright, she was a graduate of Luzerne County Community College.


Surviving are her husband of 42 years, James; daughter Tessa and her husband Jared Yushinsky; daughter Sara and her boyfriend Stephen Coleman; and her grandchildren Lorna, Colton, Kian and Leeuwin. She also is survived by her sisters Amy Fonash, Theresa Conrad, Nanci O'Shea, and Patricia Hess; her brother Charles Wright, and multiple nieces and nephews.


Barbara was devoted to her family and friends. Her acceptance and love touched the lives of many.


A memorial Mass will be held in the Saint Patrick's Church of Nicholson by Father Arbogaste Satoun on Saturday, November 26, 2016 at 11:00am. Burial to follow at a later date.


Friends may call from 9:45am to 10:45am at the church.


In lieu of flowers, donations can be sent to St. Jude's Children's Research Hospital.