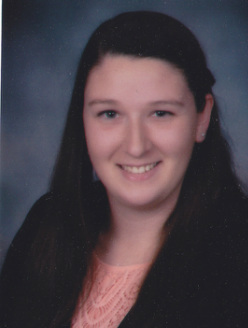 Brianna Rose Smarkusky, age 21, of Nicholson, died Thursday at Geisinger Wyoming Valley Medical Center, Wilkes-Barre.

Born in Tunkhannock, she was the daughter of William D. and Mary M. Belcher Smarkusky.

Brianna was a senior at Wilkes University and was also employed as a medical technician at the office of Dr. Davis Haire Sr., O.D., in Tunkhannock.

Brianna was a loving daughter, sister, granddaughter, niece, aunt and girlfriend.

She was very active in sports playing softball, basketball, field hockey, track and field, and travel ball. She also belonged to the National Honor Society (high school high honors), Pre-Professional Society and Adventures in Science. Brianna was very involved with 4-H clubs including the Wyoming County Grow'em and Show'em, Elk Mountain Baconeers, Wyoming County Beef Club and Sewing Club.

Brianna was also a dairy miss, dairy maid and dairy ambassador. As a result of all her hard work and dedication, she was crowned the 2012-2013 Wyoming-Lackawanna County Dairy Princess.

Brianna is also survived by two brothers, Matthew and wife, Brittany, of Nicholson; David and wife, Amanda, of Springville; a sister, Rachel, of Nicholson; paternal grandparents, William and Audrey Smarkusky, of Nicholson; maternal grandmother, Eleanor Belcher, of Springville; her boyfriend, Adam Werner, of Exeter; a niece, Peyton Smarkusky; and many cousins, aunts and uncles.

A Mass of Christian Burial will be held Tuesday at 11 a.m. in St. Patrick's Church, 205 Main St., Nicholson, celebrated by the Rev. Arbogaste Satoun and the Rev. Gerard McGlone.

Those who wish to attend the mass are asked to go directly to the church.

A viewing will be held on Monday from 4 to 8 p.m. in the Charles H. Litwin Funeral Home, 91 State St., Nicholson.

Those wishing to make donations in lieu of flowers, may make them to the family.