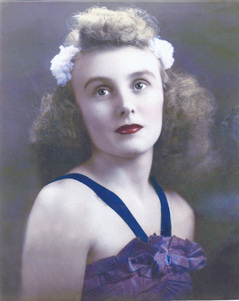 Jane F. Thomas, age 89, of Nicholson, died Sunday at the Golden LivingCenter in Tunkhannock.

She was born on July 31, 1927, in Troy, N.Y., daughter of the late Charles and Anna Wobroch Albrecht of Watervliet, N.Y.

Jane was educated in the St. Patrick Elementary School in Watervliet, N.Y., and graduated from Averill Park Central High School in 1945. She then went to the Mildred Elley Secretarial College in Albany, N.Y., and then worked as a medical secretary in the Rensselaer County Health Department in Troy.

Jane ("Janie" to her friends) was called by the lord to be with her late husband, John W. "Jack" Thomas, the man of her dreams, whom she married April 12, 1948. Jack was a state trooper when they married and passed away Jan. 18, 1990.

She had a love for dance, singing and big band music. She was a dance instructor and sang with a local band. Jane was a member of St. Patrick's Catholic Church in Nicholson, and a member of the Legion of Mary, visiting the Golden LivingCenter in Tunkhannock, giving spiritual support to the residents. She also volunteered at the church bingo and clothes closet.

Jane touched the heart and lives of many by kindness and thoughtfulness. She was truly loved by her family and friends and will be remembered as an inspiration to all.

On behalf of Jane, the family would like to express their deepest appreciation for the excellent and professional care received from the Golden LivingCenter in Tunkhannock, and AseraCare Hospice.

Surviving Jane are two sons, Barry Thomas and wife, Debbie, of Center Valley; and Robert Thomas, of Nicholson; one daughter, Debbie Kirchoff and husband, Dan, of Dalton; 11 grandchildren; and 11 great-grandchildren.

She was also predeceased by a sister, Marjorie Kennedy; and a brother, Charles Albrecht.

A Mass of Christian Burial will be held Thursday at 10 a.m. in the St. Patrick's Church, 205 Main St., Nicholson, celebrated by the Rev. Arbogaste Satoun.

Interment will take place in the Nicholson Cemetery.

A viewing will be held Wednesday from 4 to 8 p.m. in the Charles H. Litwin Funeral Home, 91 State St., Nicholson.

In lieu of flowers, the family suggests donations be made to the St. Patrick's Church, 205 Main St., Nicholson, PA 18446-0409.