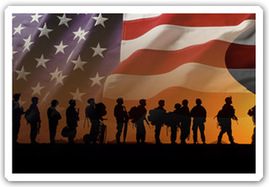 Leon Scofield, age 88, of Nicholson, died Tuesday at the Village Regional Hospital at the Villages, Fla.

His wife, the former Beatrice Tiffany, died in 1989.Born in Binghamton, N.Y., he is the son of the late Glenn and Edith Hart Scofield.

Before retiring, he was a forklift operator at Proctor & Gamble.

Leon was a WWII and Korean War veteran serving the Army, Merchant Marines and Coast Guard.

He loved to spend his winters in Florida, play bingo and lottery tickets and go to the casino.

Surviving Leon are two daughters, Patricia Smith and husband, Jeff; and Donna Brace and husband, Allen; a son-in-law, Jerry Vail; 11 grandchildren; and several great-grandchildren.

He was also predeceased by a daughter, Glenda Ball.

Funeral services will be Tuesday at 3 p.m. in the Charles H. Litwin Funeral Home, 91 State St., Nicholson, with services by the Rev. Margaret M. McCarty.

Interment will take place in the Evergreen Cemetery in Brooklyn, at a later date.

A viewing will be held Tuesday from 1 p.m. until service time.